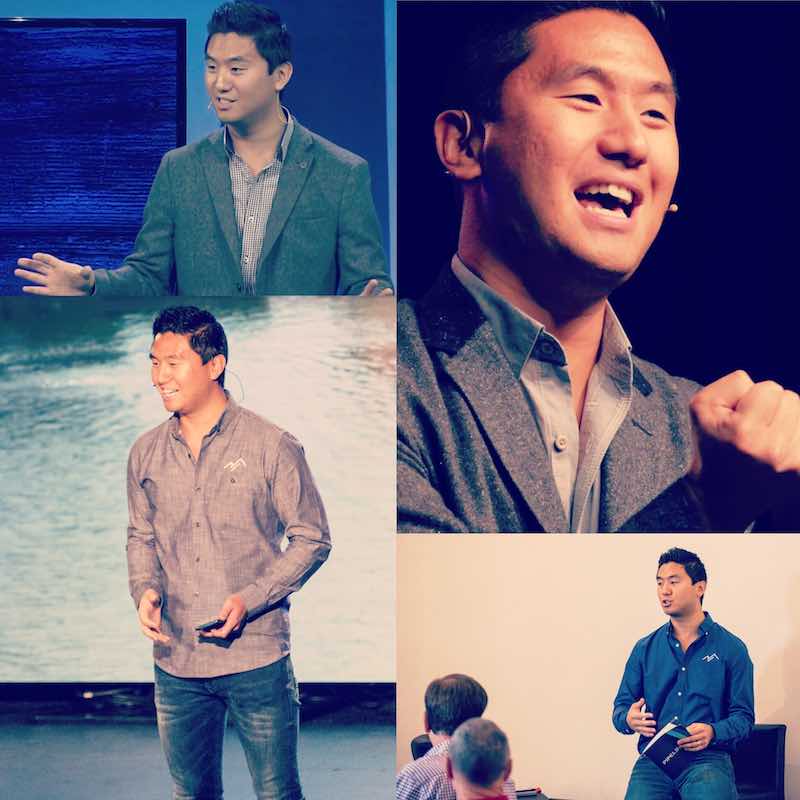 Daniel Im is the teaching pastor at The Fellowship in Nashville, TN. As a result, approximately two Sundays a month, he is regularly preaching to either the Two Rivers campus or the Mt Juliet campus. During the week, he regularly speaks at church leadership conferences, both on the main stage and in workshop environments. He also coaches and consults with pastors and church leadership teams.
Invite Daniel to speak at your next event
Speaking Topics:
Discipleship Systems, Leadership Development, Church Multiplication, and Multiethnic Ministry.
Speaking Examples:
Speaking Schedule:
A Discipleship Strategy for Multiplication (Orlando, FL)

February 28, 2018 – Exponential East

5 Shifts for Multiplication (Orlando, FL)

February 28, 2018 – Exponential East

A Different Metric for Maturity (Orlando, FL)

February 28, 2018 – Exponential East

No Silver Bullets (Chicago, IL)

March 23-24, 2018 – Illinois Leadership Summit

Practices of Churches that Multiply (Denver, CO)

March 28, 2018 – Cherry Hills Church Planter Bootcamp

5 Shifts for Multiplication (Denver, CO)

March 28, 2018 – Cherry Hills Church Planter Bootcamp

We Start Churches (Arizona)
Fellowship of Evangelical Baptists (Vancouver, BC)
Leadership on the Global Stage (Dallas, TX)

June 12, 2018 – Southern Baptist Convention

Spark Conference (Nashville, TN)
Rooted Conference (Nashville, TN)
Pipeline: Recruit, Develop, Repeat (Nashville, TN)
Converge Biennial Meeting (Minnesota, MN)
Leadership, Discipleship and No Silver Bullets (Atlanta, GA)

January 14, 2019 – Network of Baptist Associations Summit
Speaking Archive:
Sunday Sermons at The Fellowship Two Rivers and The Fellowship Mt Juliet (You can search for the messages that I've preached on the YouTube page of each campus)
Uber and the Gig Economy (Atlanta, GA)

February 15, 2018 – Technicolor Multiethnic Conference

Echo Chambers and Discipleship (Atlanta, GA)

February 15, 2018 – Technicolor Multiethnic Conference

A Different Metric for Maturity? (Atlanta, GA)

February 15, 2018 – Technicolor Multiethnic Conference

6 Practices of Churches that Multiply (Oklahoma City, OK)

January 30, 2018 – BGCO State Evangelism Conference

From Maturity to Missionary (Oklahoma City, OK)

January 30, 2018 – BGCO State Evangelism Conference

A Discipleship Strategy for Multiplication (Springfield, IL)

January 24-25, 2018 – Midwest Advance

5 Small Shifts that will Transform Your Ministry (Springfield, IL)

January 24-25, 2018 – Midwest Advance

6 Practices of Churches that Multiply (Springfield, IL)

January 24-25, 2018 – Midwest Advance

How to Actually Disciple Towards Maturity: A Scalable System (Toronto, ON)
Strengths, Weaknesses, and Your Calling in Life (Toronto, ON)
Taking Initiative: Wishful Thinking to Reality (Toronto, ON)
I Am Seen: Our Identity and Mission (Toronto, ON)
Neighboring Conference (Nashville, TN)
Urban Church Planting (New York, NY)

November 15-16, 2017 – CPLF

Creating a Discipleship Pathway for Your Church (Nashville, TN)

November 10, 2017 – National Disciple Making Forum

How to Actually Disciple Towards Maturity: A Scalable System (Nashville, TN)

November 9, 2017 – National Disciple Making Forum

What Does Success Look Like? (Montreal, QC)

October 25, 2017 – Church Planting Congress

No Silver Bullets: Five Small Shifts that will Transform Your Ministry (Mount Vernon, OH)

October 24, 2017 – LEAP Seminar

Multiethnic Church Planting (Mount Vernon, OH)

October 23, 2017 – LEAP Seminar

5 Shifts that will Transform Your Ministry (Bowling Green, KY)

October 17, 2017 – South Central Kentucky Pastor's Conference

Systems and Leadership Development (Nashville, TN)

October 11, 2017 – Pipeline: Succession at Every Level

A Discipleship Strategy for Multiplication (Irvine, CA)

October 4, 2017 – Exponential West

5 Shifts for Multiplication (Irvine, CA)

October 4, 2017 – Exponential West

A Different Metric for Maturity (Irvine, CA)

October 4, 2017 – Exponential West

How to Take Someone from a First Time Visitor to a Growing Disciple (Online)

September 27-29, 2017 – Church Hack Summit

Developing Leaders Through Discipleship (Atlanta, GA)

September 29, 2017 – SPARK Conference

Building a Discipleship Culture That Will Grow Your Church (Online)

Sep 21, 2017 – Culture Conference

Leveraging Mid-Size Space for Mission

September 21-23, 2017 – The Praxis Gathering

Discipleship From a Systems Perspective

September 14, 2017 – Nashville Baptist Association

An Empowered Church

June 25, 2017 – Grace City Church Australia

Discipleship Through the Word

June 13, 2017 – Southern Baptist Convention Breakfast

Campus Pastor Competencies

May 25, 2017 – NewChurches.com Campus Pastor Coaching Summit

5 Shifts for Multiplication

April 27, 2017 – Exponential East

Values for Multiplication

April 26, 2017 – Exponential East

A Discipleship Strategy for Multiplication

April 26, 2017 – Exponential East

Pathways: The Shift from Level 3 to Becoming a Level 4 Leader and Church

April 25, 2017 – Exponential East

Missional and Multiethnic Church Planting

April 25, 2017 – Mosaix Pre-Conference

Stages and Phases for Discipleship

April 24, 2017 – Discipleship.org Pre-Conference

Change and Discipleship Systems

March 7, 2017 – Leading Change in the Church Conference

Change and Multiplication

March 7, 2017 – Leading Change in the Church Conference

Campus Pastor Competencies

March 2, 2017 – Leadership Network HUB

Discipleship From a Systems Perspective

Feb 22, 2017 – Thirty Network Signature Gathering

Building Your Leadership Pipeline

Feb 23, 2017 – Thirty Network Signature Gathering

A Culture of Multiplication

Dec 1, 2016 – Exponential Half-Day Multiplication Seminar

How Will We Evaluate Church Planting?

Nov 17, 2016 – Assemblies of God Theological Seminary

Initiative and Vision in Leadership

Nov 2, 2016 – Mosaix Multiethnic 2016 Church Conference

Missional Communities for Multi-Ethnic Groups

Nov 2, 2016 – Mosaix Multiethnic 2016 Church Conference

Practices of Churches That Multiply

Oct 25, 2016 – Missouri Baptist Convention CORE Annual Meeting

Leadership in the Asian American Church

Oct 4, 2016 – Thirty Network

Leadership: Style, Teams, and Process'

April 13, 2016 – Men's Ministry Beta

Constructs to Get Stuff Done

Oct 6, 2016 – Exponential West

Using Residency Programs to Develop Leaders that Multiply

Oct 5, 2016 – Exponential West

How to Create a City Multiplication Movement

Oct 4, 2016 – Exponential West

Multiplication and The State of Church Planting

Aug 10, 2016 – Asbury Seminary Doctoral Class Seminar

Planting Missional Churches

July 22, 2016 – Regenerant Network

Multiplication and The State of Church Planting

July 21, 2016 – Fuller Theological Seminary Church Planting Class

The Five Practices of Churches That Multiply

July 21, 2016 – Mission OC

Leadership Trends for Asian Americans

June 12, 2016 – A2CP2 National Leadership Network Fellowship

Am I Called to Be a Church Planter?

May 18, 2016 – New City Gathering

Foundations of Missional Communities

May 16, 2016 – Discipleship.org Seminar

Using Technology to Unleash a Culture of Multiplication

April 28, 2016 – Exponential East

Creating Systems that Fuel a Leadership Movement

April 27, 2016 – Exponential East

New Trends in Church Multiplication

April 26, 2016 – Exponential East

How Your Church Can Create a Multiplication Movement

April 26, 2016 – Exponential East

Biblical Church Planting for Growth

April 8, 2016 – A2CP2 Leadership Network Conference

Discipleship [IN] Church Planting and Multisite

Discipleship [IN] 2016 Webcast

Multiplication is Impossible Without Intentionality

Nov 4, 2015 – Wesleyan Nitrogen Multiplication Summit

The Eight Attributes of a Healthy Disciple

Oct 28, 2015 – Church Planting Canada Congress

Using Technology to Unleash a Culture of Multiplication

Oct 7, 2015 – Exponential West

Creating Systems That Fuel a Leadership Movement

Oct 7, 2015 – Exponential West

New Trends in Church Multiplication

Oct 6, 2015 – Exponential West

Learning to Value the Desert Experience in Ministry

Sep 11, 2015 – Praxis Gathering

The Key to Starting and Multiplying Mid-Sized Groups

Sep 11, 2015 – Praxis Gathering

Discovering How to Use Your Strengths to Multiply Your Church

April 30, 2015 – Exponential East

Are you a Future Planter or Campus Pastor? Discerning Your Next Steps

April 29, 2015 – Exponential East

Using Technology to Unleash a Culture of Multiplication

April 28, 2015 – Exponential East

When Do Mid-Sized Groups Make Sense And How Do You Employ Them?

April 14, 2016 – Saddleback Twelve Conference

Leadership Development For Mid-Sized Groups

April 14, 2016 – Saddleback Twelve Conference

Leading with Awe

Nov 14, 2015 – Church Planting Leaders Fellowship

Before 2015, my speaking primarily happened in the context of the local churches that I was pastoring in