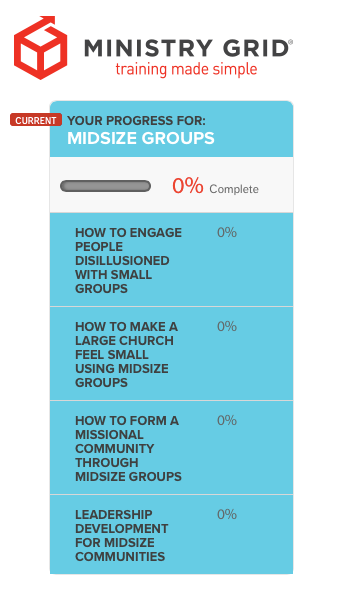 Do you know about Ministry Grid? This is THE platform that I've been waiting for. I've always been a proponent of on-demand and on-the-go leadership training, but the learning management systems out there were either too expensive or not user friendly enough. That's why, years ago, I went ahead and just created my own online small group leader training using Survey Monkey, but that was so 2010.
As I've been looking for more of a dynamic and intelligent system, I was first struck by RightNow Media's online video Bible study and training library. I decided not to go with them since my church already had over 200+ small group videos in our own library, and with the demographic of our church, an online system would only cater to less than 20% of our groups. Furthermore, their learning management system did not have the customization features that I was looking for and it was way too expensive.
Enter, Ministry Grid.
Ministry Grid has the customization features that I want for a learning management system, the types of videos that will appeal to all leaders in my church, as well as reasonable pricing. That's why we've signed up with them.
Recently, I've had the privilege to also partner with Ministry Grid to provide them with exclusive training content on mid-size communities/groups, as you see outlined in the image.
Click here to take the midsize groups course on Ministry Grid.
So if you're interested in learning more about mid-size communities/groups, then take in this course and, while you're at it, learn more about Ministry Grid.
Session 1 – How to Engage People Disillusioned with Small Groups
Session 2 – How to Make a Large Church Feel Small using Midsize Groups
Session 3 – How to Form a Missional Community through Midsize Groups